Emigrant Wilderness, July 2018
Back to other trips
---
My first trip in three years! Sometimes life gets in the way. I thought I'd try a short solo trip to see if I'm still able to do all this. Answer: I'm a lot slower than I used to be, and get tired much more easily. My plan was to hike all the way to
Long Lake
on the first day, then climb
Granite Dome
on my layover day. That didn't quite work out.
Due to the
Ferguson Fire
, visibility the entire time was extremely poor. Fortunately, there was no smell or sting of smoke. Due to it being a weekend in July, there were a lot of other people.
---
Day 1: Gianelli Trailhead to Leopold Lake

I woke up at 4:45am and got on the road by 5:15. I stopped for a really great breakfast at the Sportsman's Coffee Shop in

Twain Harte

, got my permit at the Summit Ranger Station in

Pinecrest

, then drove up

Crabtree Road

to the

Gianelli Trailhead

. I started hiking at about 10am.

By the time I reached the

Chewing Gum Lake

turnoff I was already quite tired, and by the time I hit the

Y Meadow

turnoff I was wiped out and very discouraged. I stopped for lunch, had some chocolate-covered espresso beans, and both my energy and mood improved.

I continued on through

Whitesides Meadow

, contemplating whether I had enough in me to make it all the way to

Long Lake

. Eventually I decided no, I didn't. I was OK with this, and the consequent abandonment of

Granite Dome

, mostly because of the smoke -- there wouldn't have been any views from the top. I refocussed the trip on small beauty, and took the turn off towards

Toejam Lake

, intent on

Leopold Lake

.



Leopold Lake was only about 1.5 miles closer than

Long Lake

, but with less climbing. Nevertheless, it was quite a slog in my exhausted state. I finally made it, and set up camp in the exact same spot as in 2004. I spent the rest of the evening swimming and enjoying the fiery sunset.


---
Day 2: Day Hike to Long Lake
My plan for today was a day hike loop to

Long Lake

and the

Wire Lakes

. Again, that didn't quite work out. I started out at 8:30 on the cross-country route down into

Cherry Creek

canyon. I stuck to the right side, as suggested by Ben Schifrin's map (I didn't have the text with me). It was moderately difficult, with some brushy sections and scrambling.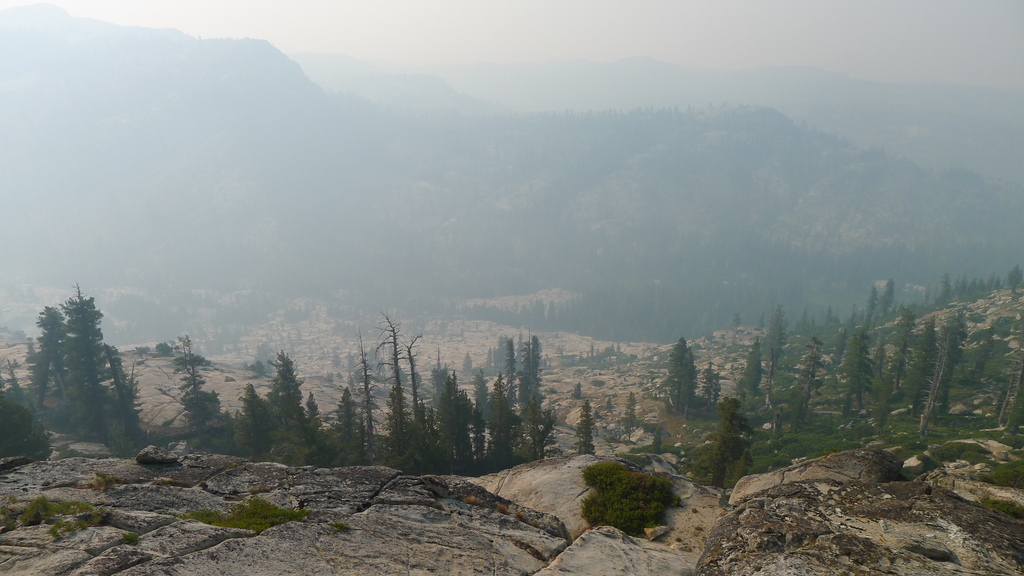 Once at the bottom, it was easy to find the trail, and I started up the 400' climb to

Gem Lake

. A quick pause at the lake, and I continue the gentle climb past

Jewelry Lake

to

Deer Lake

. From

Deer Lake

, I set out cross-country, following the outlet creek from

Long Lake

. This was one of the few flowing creeks I found this year, and it was quite lovely, with many small cascades and pools.

Finally, I reached the

Long Lake

dam and sat for lunch atop a huge boulder with an amazing view out over the lake.

Long Lake

was incredible, full of islands and surrounded by what looked like excellent camping, and I'd definitely like to go back some day.


I was very fatigued by this point, unfortunately, and decided to skip the big loop and just head back to camp. I was not looking forward to the 1000' cross-country climb awaiting me at the end of my hike. Retracing my route, I soon reached this and started up. Very, very slowly.

On the way up I took a different route, though, which turned out to be much better. From the small stand of trees ⅓ of the way up, this route heads straight up, then to the right. It had a few ducks, only one short brushy section, and no real scrambling. Definitely recommended over my route down.

I arrived back at my camp around 4pm and enjoyed the remarkably warm evening.


---
Day 3: Leopold Lake to Gianelli Trailhead

Nothing too exciting today, just retracing my route back to the car. I woke up already fatigued, though, so it was a very long, slow, painful hike.

I had an uneventful drive home, with a stop for carne asada at Cocina Michoacan.


---


Last Modified: