John Muir/Sequoia, September 2015

Back to other trips
---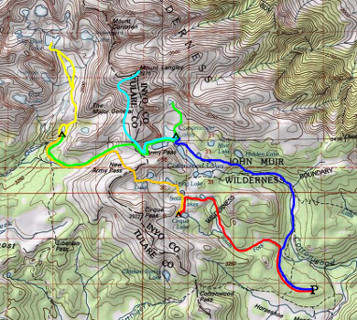 The One Star Trip.
The running joke this year was about
1-star Yelp reviews of national parks
. In fact, it was a great trip. We were here
three years ago
and got rained out, so it was nice to return and reclaim the region -- and finally make it up Mt. Langley! Like last time, though, it was very crowded, perhaps more so due to folks like us relocating to avoid smoke. And weirdly, despite the drought, every creek was full of water.
Note that the naming of the Cottonwood Lakes differs between the USGS map on the one hand and the
Tom Harrison
map & the on-the-ground signage on the other. I use Harrison's names below.
---
Day 0: Drive Up


The plan was to meet in Bishop and hike from South Lake to North Lake through the Evolution Basin. I left Palo Alto around 7am and had a nice, leisurely drive over Sonora Pass in my brand-new car. After refueling at The Looney Bean (best coffee in the Eastern Sierras!), I drove to the ranger station to pick up our permit. The ranger was extremely happy, but very discouraging of our trip: smoke from the Rough Fire was blowing directly towards us, ruining the views and endangering the health of hikers. In fact, I had noticed that the mountains, usually standing straight up, seemingly only an arm's length away from Bishop, were completely obscured that afternoon. I told him I'd discuss with Alex when he arrived.



I then drove out of town to the Laws Railroad Museum. It closed earlier than I'd expected, so I only had half an hour to explore, but what a place! Not a lot of trains, but a ton of ephemera from that era. I rushed from building to building, taking dozens of rushed photographs in the reddish, late-afternoon light. After the museum closed, I headed back into Bishop for a drink at Rusty's and to wait for Alex. My throat and eyes were stinging.

I met Alex at the Creekside Inn, and we walked next door for delicious steaks at the bowling alley. After dinner, we strolled over to the Tri County Fair, got some funnel cakes, and admired the quilts.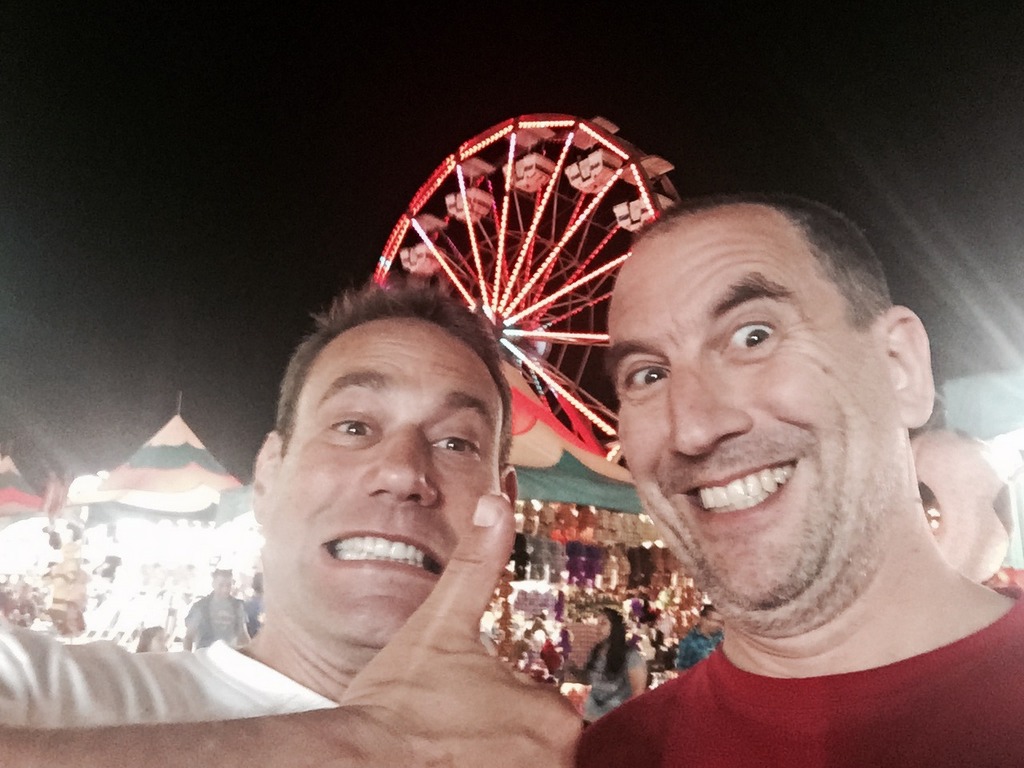 ---
Day 1: Cottonwood Lakes Trailhead to Cirque Lake
In the morning, the smoke was worse than ever -- plus Alex reminded me of his asthma. Back to the ranger station we went, to trade in our permit for one less smoky. The ranger suggested going south, back to the Cottonwood Lakes area. No problem. All my careful planning out the window, but at least we were somewhat familiar with the area. We picked up some maps, drove an hour south to Lone Pine, texted our wives with the new plan, booted up, and started hiking. The sky was crystal clear!



We started out up the

Cottonwood Lakes Trail

, then turned left at the unmarked trail up the

South Fork of Cottonwood Creek

. The hiking was surprisingly difficult for us. I blamed the altitude plus the lingering effects of smoke inhalation. After a lovely, creekside lunch, we continued up the trail to the

South Fork Lakes

.

Lake #1

was fairly nice but was occupied,

Lake #2

was nothing more than a puddle amongst the rocks, and

Lake #3

looked pretty empty and muddy from our vantage point. We turned south and climbed cross-country over a rocky ridge to try

Cirque Lake

.



Cirque Lake

was amazing. We found a great campsite at the western end of the lake, which we had all to ourselves. The swimming wasn't great, but we splashed a little, then settled in for a very comfortable night on the sand.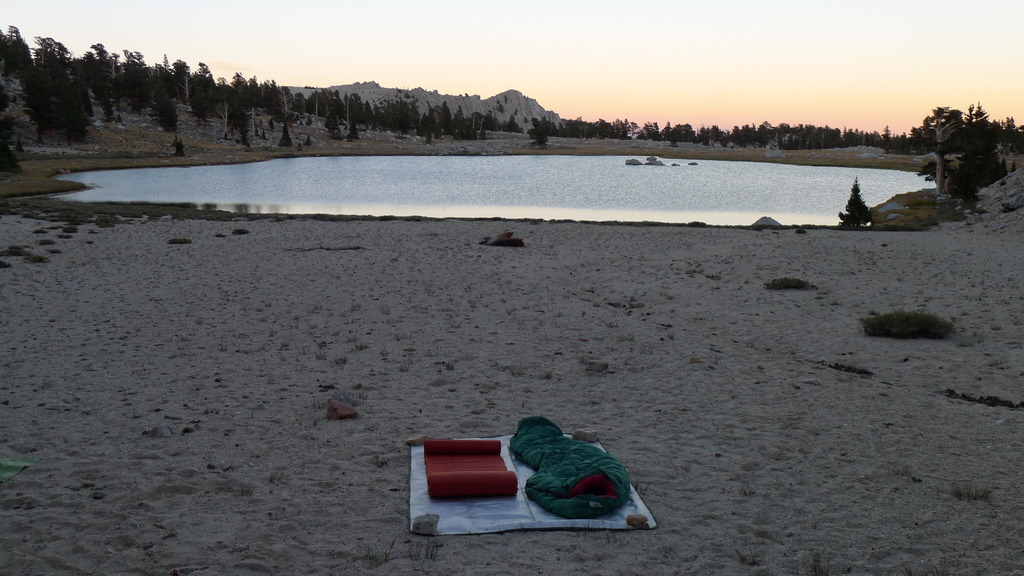 ---
Day 2: Cirque Lake to Soldier Lake
A beautiful morning dawned, and after breakfast we sat down to come up with a route plan. It ended up being very similar to last time's -- there just aren't too many places to go in the region with only 5 days.

We climbed back over the ridge to

South Fork Lake #3

, then rejoined the main trail and climbed past

Long Lake

and

High Lake

. Soon began the long, dusty switchbacks up to

New Army Pass

. We ate lunch at the top, looking back down into the valley full of lakes.





Descending the familiar trail down the other side of the pass, we had nice views of the

Great Western Divide

, the

Kaweah Range

, and

Siberian Outpost

. We passed some disappointed hikers who had planned on going all the way to Yosemite but had been turned around by rangers at Forester Pass due to the smoke. Eventually, we rounded the corner and strolled up to good ol'

Soldier Lake

. Crowded and with poor swimming, but still beautiful. I think there were something like five groups camped around the lake this night!


---
Day 3: Day Hike in the Miter Basin


We began the day by climbing up the gully from

Soldier Lake

into the

Miter Basin

, then made our way across the meadow towards

Sky Blue Lake

. Three years ago, the entire basin was for us alone; this year, we ran into at least six other groups! Has the Miter Basin been "discovered"?

After lunch at

Sky Blue

, we spent an hour or two just lounging around, exploring the fabulous rock forms and staring at the ripples on the water. We wandered back down the valley and up to the lakelet at the top of the gully. As Alex was preparing to pump water, I spotted a trio of bighorn sheep on the hillside above us.




We made our way back to camp, had quick swim, and settled in as a light evening rain came down. Our campsite was even more crowded this night, with a large group right next to us frantically (and loudly) trying to set up a tent without poles -- they'd forgotten them at their previous camp!


---
Day 4: Soldier Lake to Cottonwood Lake 5

Leaving

Soldier Lake

, we climbed back up towards

(Old) Army Pass

, then down the other side, past

Cottonwood Lake 4

. We quickly found a delightful campsite on the shores of

Lake 5

and had lunch. Leaving our gear here, we continued on up the hill to

Lake 6

-- an easy climb that was fairly well ducked.

Lake 6

turned out to be two lakes, both of which were immensely beautiful and peaceful. Alex spent a lot of time basking in the sun on an extraordinary lounge-shaped rocked on the shores of

Lake 6a

while I wandered around taking pictures.




As we were descending from

Lake 6

we ran into a group of four bighorn sheep -- much closer than last time. We approached them slowly, hiding behind bushes, and were able to get within about 50 yards of them.


Continuing down, we stopped often to admire the amazing bleached tree stumps dotting the region. Eventually we arrived back at our campsite at

Lake 5

and went for a swim -- we finally found a lake with good swimming! This swimming was particularly nice, with a sloped rock entrance, a sandy bottom, and a number of barely submerged rocks offshore. Nevertheless, Alex managed to stub his big toe and rip up the nail.

A beautiful evening came down, and we sat on our rock, looking at the cliffs of

(Old) Army Pass

until all light had finally faded.


---

Day 5: Day Hike up Mt. Langley

The plan for today was to climb

Mt. Langley

, a feat prevented by rain three years ago. Our daypacks were too small for the water & clothes we thought we'd need, so we stripped down our backpacks to just the essentials and wore those. Leaving camp, we climbed back up

(Old) Army Pass

and then struck off into new territory: the use trail to the summit.

The first ⅔ of this trail was pretty easy: a gentle climb up the back side of the ridge. Then things got tough. The terrain was very steep and crumbly. Think climbing a sand dune at 14,000'. I had to rest every few steps to catch my breath, though I'm not the fittest person around. Truth be told, other hikers were climbing without any obvious side effects.

After what seemed like an eternity of hell, the route finally flattened out for the final stretch to the summit. And what a summit! As I approached, my exhaustion was quickly forgotten in the face of the stunning, 360-degree view. To the east, a sheer 1200' cliff began the descent into the

Owens Valley

, 10 miles away and 10,000' down. To the north stood

Mt. Whitney

, a mere 500' higher than we were. To the north and west, divides and ranges dotted the horizon, and smoke rose thickly from

Kings Canyon

. To the south,

Olancha Peak

rose like a perfect cone.




We sat for a couple of hours, marvelling at the view and chatting with other hikers. It was still and warm -- no need for all the clothes we brought. At one point, Alex looked out and spotted a paraglider even with us, circling at 14,000' over the Owens Valley! It climbed another 1000' or so and then took off to the north at terrific speed. Finally, we reluctantly hiked back down, retracing our steps and arriving back at camp just in time for a swim before sunset. It was a great hike, and our first 14er -- on our 14th trip!


---

Day 6: Cottonwood Lake 5 to Cottonwood Lakes Trailhead

We had an uneventful hike out down

Cottonwood Creek

-- and passed dozens of groups on their way in for the weekend. Back in Lone Pine, Alex and I had burgers & beer at the Mount Whitney Restaurant before saying our goodbyes. In Bishop, I popped in to the Looney Bean for coffee and Schat's for bready treats, then peeled out up 395. I had an amazing, caffeinated spin over Sonora Pass, stopped in for a quick carne asada at Cocina Michoacana in Oakdale, and made it home by 10.


---


Last Modified: