Golden Trout/Sequoia, September 2012
Back to other trips
---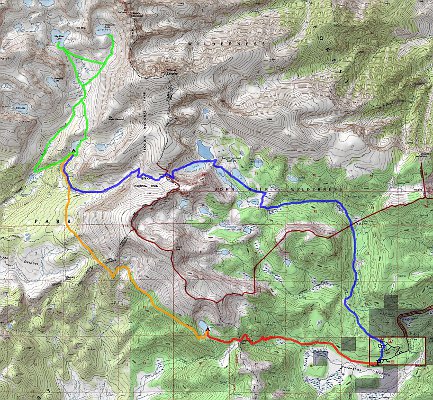 Alex recently moved to San Diego, which gave us an opportunity for our first trip in the Southern Sierra. Time was a little tight, though, so I planned a 5-day trip out of Horseshoe Meadow -- an easy and quick way into the high country. As it turned out, two days of unusual rain dampened our spirits and we hiked out a day early. Before the rain started, I was tempted to call this the High and Dry Trip (the trailhead is at 10,000'), but I think it more appropriate to call it the Crowded Trip. Although most of our days were without company, every night we shared a lake with at least one other group.
---
Day 0: Drive Up

I expected my drive to Lone Pine to take about 8 hours, so I planned a number of short rest stops on the way. First up was quick photo op at

Olmstead Point

in Yosemite. This was Labor Day weekend and the whole park was very crowded, so I didn't stay long. After exiting the park over

Tioga Pass

, I stopped at the

Whoa Nellie Deli

for some buffalo meatloaf. Good, but overpriced.

Turning south on 395, I peeked in on

Obsidian Dome

a few miles later. This is a bizarre place: a mound of obsidian boulders, 2000' in diameter and 100' tall, plopped down in the middle of the forest. I was very curious to go climbing some of the trails on it, but I didn't really have time.

I then stopped for a quick espresso at

The Looney Bean

in Bishop and picked up a pair of hitch-hiking backpackers on the way out of town. Turned out they were from Palo Alto! I drove them to their trailhead at Onion Valley, which made them very happy.



I finally made it to the visitors center in Lone Pine at around 3:30. I picked up our permit and headed back out of town for my last tourist stop: the

Alabama Hills

. This is a large area of granite, weathered into strange, towering formations. Many movies, especially old westerns, have been filmed here, and it's a fantastic place to explore and take pictures.

Alex showed up soon after I returned to town, and we spent a nice evening getting beers at

Jake's Saloon

and dinner at

Seasons

, followed by a very comfortable night at the

Best Western

.

---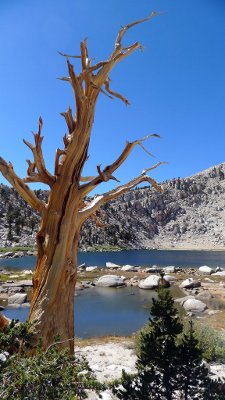 Day 1: Horseshoe Meadow to Chicken Spring Lake

After breakfast at the
Best Western
, we drove an insanely scary road 6000' up the side of a cliff to
Horseshoe Meadow
. It was Sunday night of Labor Day weekend, so the large parking area was still pretty full. We geared up and headed out on the
Cottonwood Pass
trail.
The walk was easy going for while, through bits of forest and meadow, before starting up the climb to the pass. The climb wasn't bad, though, and before we knew it we were at the top. We found an awesome east-facing ledge and ate our lunch looking out over
Horseshoe Meadow
and the desert beyond.
After lunch, we walked the remaining half mile to
Chicken Spring Lake
and found a nice spot to camp. There were many groups camping at the lake, but they were spread out enough to keep it from being unpleasant. We whiled away the afternoon exploring and reading. The trees at this lake were really astounding: beautiful orange wood, striated and twisted into helixes and whorls. Alex found The Best Tree Ever, which was really more of an abstract sculpture.
In the middle of the night I discovered that my Thermarest had a leak.
---


Day 2: Chicken Spring Lake to Lower Soldier Lake
Our second day was a fairly easy and uneventful traverse. We had fine views down onto
Big Whitney Meadow
and
Siberian Outpost
. Then we started our descent into
Rock Creek
canyon and soon turned right, towards the
Soldier Lakes
. We made camp on the little peninsula jutting into
Lower Soldier Lake
.
The entire hike was over before lunch, so once again we had many hours to enjoy and explore our destination. We were at about 11,000', though, and the altitude started to get to me: feelings of claustrophobia and anxiety. I distracted myself with walking and photography and managed to (mostly) enjoy my afternoon.
I also spent some time finding and patching the leak in my Thermarest. I've been carrying strips of duct tape on these trips for 10 years. Finally, a chance to use them!
---

Day 3: Day Hike in the Miter Basin

From our campsite, we walked counter-clockwise around

Lower Soldier Lake

to where the stream from

Upper Soldier Lake

appears, then scrambled up a gully heading due north. This is a route Alex had tried out the afternoon before, and it brought us to the edge of the mighty

Miter Basin

. The basin is a large expanse of rock, punctuated by small meadows, surrounded by vertical cliffs 1000' high. Numerous lakes occupy the many side canyons.




We angled down the side of the basin to the stream at its bottom, then followed the stream up past small pools and cascades. We soon turned right and started climbing up to

Iridescent Lake

. Our plan was to have lunch on a rock jutting out from the mouth the lake's side-canyon, but clouds had been forming all morning and a chilly wind was now blowing. Instead, we continued on to the lake, which was more sheltered. We had a nice lunch looking out over the deep, clear water, as breaks in the clouds sent shafts of light marching up the canyon walls.




After backing our way out of the side canyon, we headed due west towards the base of

Sky Blue Lake

's canyon. The climb up to

Sky Blue Lake

provided a number of lovely waterfalls, our enjoyment of which was not dampened by the rain that had started to fall. We reached the lake and worked our way clockwise around it to a peninsula. As we got there, the rain and wind really started up. We both began to get cold and ended up huddling in a crevice between two rocks for a while. I can assure you that the lake was not exactly sky blue this day.

After throwing on a few more layers, we started back down the canyon. To exit the basin, we continued down to

Rock Creek

, where we joined up with a trail that climbed back up to our campsite. By this time, the rain had stopped, the clouds were clearing, and we were able to enjoy another lovely (if somewhat damp) evening around camp.


---
Day 4: Lower Soldier Lake to Horseshoe Meadow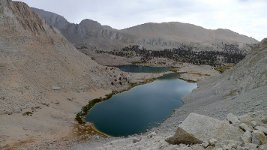 The morning was sunny, and we were able to dry out all of our gear before packing up. We started off the day's hike by retracing the route by which we'd arrived at

Lower Soldier Lake

, then turning left up towards

New Army Pass

. This was a grueling, steep climb over broken granite and sand. At the top, we went off the trail to the left to check out the old

Army Pass

and have a snack.

Our plan for the day was to drop our packs here, day-hike up

Mt. Langley

, and then spend the night at one of the lakes on the other side of

New Army Pass

. The clouds had been building since we broke camp, though, and it looked like

Mt. Langley

would be at best cloud-covered, if not battered by rain, by the time we made it up there. We made the tough call to skip the peak and instead followed the unmaintained trail down from

Army Pass

directly to the

Cottonwood Lakes

.



That trail is one of the scariest I've taken. The top portion traverses across a sheer cliff, weaving between and over rocks, completely washed out in some places. As we got lower, the trail mellowed out just in time for the rain to start. The rain was pretty heavy this time, and we were thoroughly soaked by the time we reached the bottom end of

Lake #5

(or #4 -- the maps don't agree on this). We didn't want to make camp in the rain, so we looked for a place to wait it out. Miraculously, we found a great little cave under a giant, overhung boulder. We crouched there for an hour or so, munching on snacks and watching the water drip down the walls.

The rain stopped occasionally, then started up again. More importantly, the sky showed no signs of clearing. The thought of setting up camp on the wet ground just to huddle in the tent and hike out the next day was not very appealing. One more night in the wilderness is great, but not so much if you can't enjoy it. So we made our second tough call of the day and decided to continue on and hike out a day early.



The route out took us past the remaining

Cottonwood Lakes

and down

Cottonwood Creek

back to the trailhead. It was a nice and steady downhill through pretty forests. The parking lot was much less crowded than on the weekend. We drove back into Lone Pine, found a motel for the night, and had another great dinner at the

Totem Cafe

.

---


Last Modified: