Desolation Wilderness, July 2012
Back to other trips
---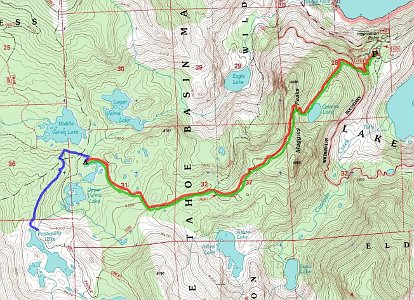 A short trip with Marjie and Henry. This was Henry's second backpacking trip ever (the first was in Pescadero Creek County Park), and Marjie's first in about 17 years! I wanted something not too long, high, or hard, so I chose the Velma Lakes from the Bayview trailhead.
---


Day 1: Bayview Tailhead to Scooby Lake
After snagging a fortuitous parking spot at the jam-packed
Bayview trailhead
, we started up the first hill. It was about 700' up, with increasingly beautiful views down onto
Lake Tahoe
and
Emerald Bay
. It was tough for Marjie, though, and by the time we stopped for lunch at
Granite Lake
she was wiped out. She insisted on pressing on, though, so after lunch we continued up the second and last climb: another 700' to the saddle between
Maggie's Peaks
. By the time we crested, she was beyond dead -- and we still had 3.5 miles to go! Henry was tired but optimistic, and it was all downhill from here, so we continued.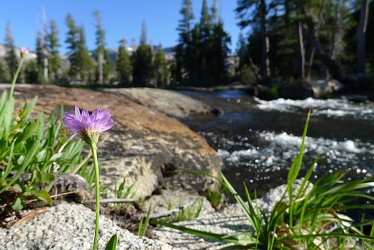 The rest of the hike was uneventful, just a death march for Marjie. We had intended to go off-trail down to
Middle Velma Lake
, but that seemed unwise in the circumstances. Instead, we stopped a half mile short of there at the unnamed partner to
Upper Velma Lake
. Kathy Morey, in the Wilderness Press books, calls this Velma's Chum, but we thought
Scooby Lake
was a much better name.

We found an awesome campsite right next to the lake's outlet, with a beautiful cascade, rivulets flowing over cracked rocks, and places to sit in the shade with your toes wet -- it was heaven! However, this being Desolation, a trio of guys showed up later and set up camp 100' away from us.
---
Day 2: Day Hike to Fontanillis Lake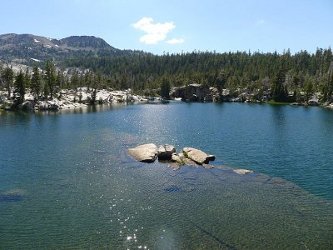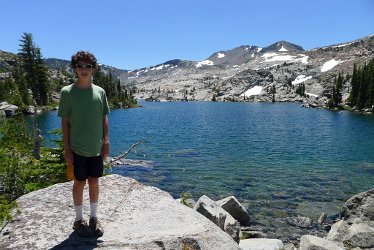 In the morning, Henry and I took a short walk to go see
Upper Velma Lake
. When we got back, Marjie was feeling somewhat revived, so we decided that short, easy day hike would be good. We hiked up the wooded ridge about a mile to
Fontanillis Lake
and had lunch. It was beautiful and relaxing, and not too tiring for Marjie.
After returning to
Scooby Lake
, Marjie and Henry spent the entire afternoon around the campsite. They read for hours with their feet soaking in the water, and Henry ran back and forth across the rocks, lost in his imagination. I got antsy and took a walk around the perimeter of the lake.
The neighbors had packed up and left in the morning, but a young couple came late in the afternoon and set up camp -- this time 50' away from us! That's about what you can expect staying close to the trails in Desolation, I guess.
---
Day 3: Scooby Lake to Bayview Trailhead
We wanted to get home early, so we packed up quickly first thing in the morning and headed out, armed with dozens of lemon drops for the 500' climb ahead. Marjie was nervous about it, but both she and Henry crested it without and real problems. We were back at the car by lunchtime, changed shirts, and drove home.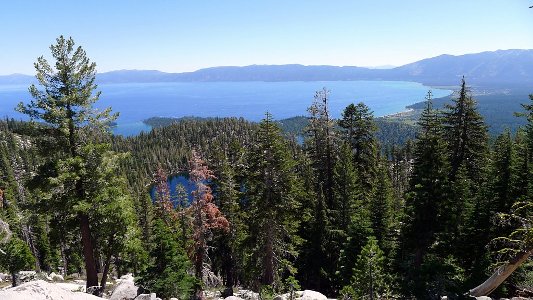 ---


Last Modified: