Emigrant Wilderness, September 2010
Back to other trips
---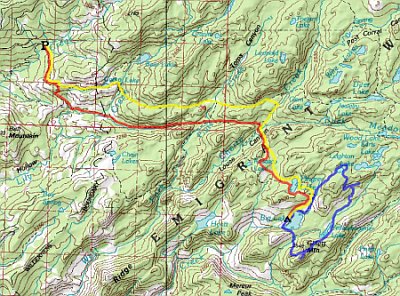 My first solo trip! It looked for a while like it wasn't going to happen, but after twice postponing it I finally pulled the trigger on Friday evening. I had everything packed up in an hour and woke up early Saturday morning for the drive up. I picked this part of Emigrant mostly because it was close: from the time I woke up to hitting the trail was only 4.5 hours! I also wanted something off-trail, but not too hard to navigate.

The weather was incredibly hot and dry -- a nice change from the last few cold, wet trips. Almost every creek I crossed was bone dry, and it was so hot that my lunchtime tortilla was crunchy by the end of the meal.

I had a couple of equipment changes this year:

A new, lightweight single-person tent (which I ended up not using, there being no rain or mosquitoes)
A very lightweight, compressible down jacket
A pencil in my pocket, which allowed me to track my route more accurately and keep an itinerary
As on the last trip, I carried my SPOT emergency locator beacon, without which Marjie would never have let me go alone.



---
Day 1: Crabtree Trailhead to Big Lake
0500:
Awake
0510:
Driving
0915:
Trailhead
0940:
Hiking
1320:
Lunch
1355:
Hiking
1700:
Camp

11.5 miles

The strangest part of the trip was starting off. Nobody with whom to coordinate packing, nobody to ask "Ready?"...just start walking! From

Crabtree

, the trail winds slowly up and around a hill. With the new, lightweight equipment and food for only three days, my pack felt wonderfully light. From the top of the hill, I took the right turn down into

Pine Valley

. This trail is a pack animal highway and had been ground into a thick layer of dust. I looked like Pigpen trudging along, and by lunchtime my calves were a dark brown.

The

Pine Valley

trail meanders pleasantly up a wide valley, past

Grouse Lake

. From there it climbs through an increasingly narrow canyon before descending again to

Groundhog Meadow

. Another low pass brought me to a beautiful view down into

Louse Canyon

, run through by the

West Fork of Cherry Creek

. I stopped for lunch at this overlook, and while I ate I watched a mule train descend from across the valley and up again on my side.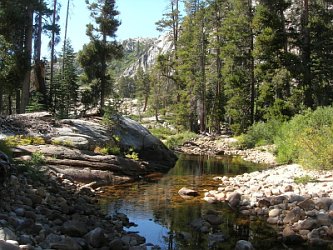 After lunch I scrambled down the remaining 100' into the canyon, passed through some nice camp sites along the creek, and started up the other side. From this point on, my hike was off-trail. I climbed south, up the shoulder of a creek bed that cut diagonally down the side of the canyon. The creek bed was made of beautifully red, blocky rocks, and must be quite a sight when wet. Emerging into the meadow at the top, I skirted the hill to my right and climbed up to an overlook from which I could get a view of

Rosasco Lake

nestled in its valley. From here I climbed down the ridge, across a broad valley, and up the gentle rise to the shores of

Pingree Lake

. This lake is gorgeous: full of islands and weird peninsulas, with granite cliffs in the background. It looked quite shallow, though, and not great for swimming.

I made my way around the south end of

Pingree Lake

and attempted to find a path through to continue down to

Big Lake

. The terrain was extremely jumbled, though, and I ended up detouring quite far to the east before I found an easy way through. The slope from here down to

Big Lake

is scoured clean and polished by glaciers. It was so smooth and shiny I think you could actually ride a skateboard down it. I traversed high, making my way towards the west side of

Big Lake

, where my friend Bob had said there was a great camp site. I found one on a beautiful rock knoll bumping out into the lake and quickly sat down for a snack -- it had been a long day!

When I stopped hiking, the silence was overwhelming. It was at this point that I had my only minor freakout on the trip: "Oh my God, I'm completely alone in the middle of nowhere!" It only lasted a minute, fortunately, and the feeling was completely destroyed when a group of eight rowdy school kids arrived on the north shore of the lake and proceeded to have a screaming water fight. Sigh. Not so solitudinous after all. I picked up my things and moved 100 yards further south, around an outcropping that helped dull the sound.





Where I ended up was a better campsite, anyway. It was perched on a low ridge between the lake and its huge drainage valley. I had views in both directions, great swimming, and a soft sandy bed. Bliss! I swam, read, and took pictures until alpenglow lit up

Haystack Peak

in the distance -- the highest point on our 2009 trip! -- then watched the moon rise over the lake.

---
Day 2: Day Hike to Peaks and Lakes
0730:
Awake
0935:
Hiking
1205:
Lunch
1310:
Hiking
1620:
Camp

~7 miles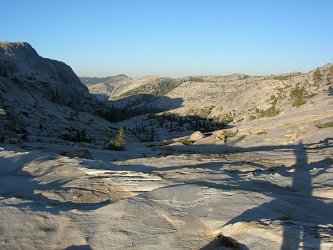 The plan for the day was to do a day hike and explore as many of the central Emigrant lakes as I could get to. But first: a view! I enjoyed a leisurely morning, then started off towards my first goal:

Gillett Mountain

. After skirting the outlet of

Big Lake

and its southern edge, I turned south into a small valley. From there my first obstacle became apparent: a pair of 20' vertical walls at the base of the

Gillett Mountain

. With a little reconnaissance, I managed to find an easy scramble over both of them, though, and was soon trudging up the 500' towards the west ridge of the mountain. From there it was an easy walk to the saddle between the two peaks. I decided to climb the south peak in order to get a view into

Yosemite

, so from the saddle I turned right and climbed the remaining 150' to the peak. The south peak of

Gillett Mountain

has a nice, broad top which quickly falls off to a cliff on the south. From the peak there is a great view down into

Cherry Creek Canyon

and

Boundary Lake

on its opposite side -- both of which I'd visited on previous trips. To the northeast, in the direction I was hoping to explore, I could see a beautiful sheer granite slope with what looked like water running down it. Since running water was a rarity on this trip, I decided to try and make it over there later in the day.



After a nice rest on top, I climbed back down to the saddle and made my way through some thick brush to the east ridge of the mountain. I found some fairly fresh bear poop on the way, so I did most of this traverse while singing, a stark contrast to the normal silence of hiking alone. From the top of the east ridge I descended diagonally down towards

Yellowhammer Lake

, encountering some rough terrain and brush, but nothing impassible. Eventually I emerged on the eastern shore of the lake and began scouting for a lunch spot.

Yellowhammer Lake

is long, thin, and deep, hemmed in on both sides by steep rocks. I found a small ledge just above the waterline and sat down to eat. This was a fabulous spot, completely isolated and quiet, in full sun. I spent an hour here, swimming, eating, and reading, and never heard another voice -- just bugs buzzing and fish jumping.

After packing up again, I set off along the shore of the lake. Just past the northern end of the lake I found a beautiful meadow, and across the meadow I caught sight of a building. I backtracked to a path leading across the meadow, followed the path through the woods a little ways, and suddenly came upon a small complex of buildings:

Camp Yellowhammer

, consisting of a stable, a cookhouse, a storeroom, and a shower(!). Subsequent research indicates the camp has been there since the 19th century. It was in pretty good shape, but I'm not sure if it's still in use or not.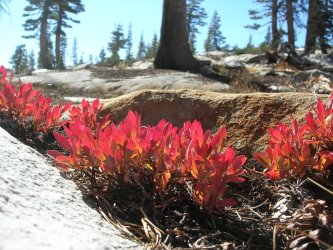 After half an hour of exploration and photography, I continued up the canyon towards my supposed cascade. When I reached it, however, I was disappointed: it was merely stains on the rock. I continued up the slope to a flat shelf about halfway up the ridge. There I was confronted with another obstacle: a 40' wall of granite. I traversed east to a viewpoint down on to

Five Acre Lake

, but could find no break in the wall. Next I tried west, and eventually found what looked like a feasible path up the face. It was, but just barely. After pushing through some brush and hauling myself up some tight crevices, I emerged on top of the cliff, fairly well exhausted. The hill continued up gently from here, and after cresting the broad ridge I was able to easily walk to the shores of

Kole Lake

. This was a bucolic little lake, surrounded by forest and low rocks. I sat there for a while, eating, reading, and regaining my strength.

I then skirted the shores of

Kole Lake

to a small hill from which I could get a view of

Leighton Lake

. It looked very appealing, but at this point I just wanted to get back to camp for more swimming and reading. I continued around

Kole Lake

, then descended the broad valley towards

Pingree Lake

. Back down the smooth granite slope I went, into camp once more. I spent the late afternoon relaxing around camp. The group of school kids at the north end of the lake was still there, and they fired up their raucous laughter at around 6 p.m. Amazingly, a second group of rowdy young folks soon appeared on the east shore of the lake! I really don't mind sharing a lake, but the yelling was just awful. Fortunately, they settled down as the sun set. An hour later, I watched the moon's light sweep down across the western hills towards me.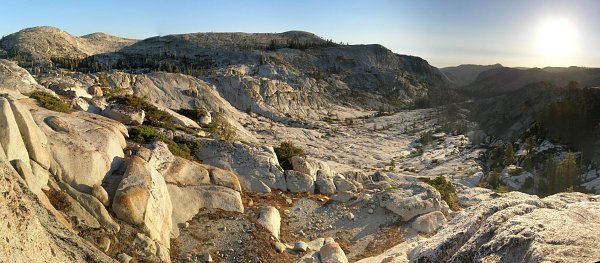 ---
Day 3: Big Lake to Crabtree Trailhead
0730:
Awake
0900:
Hiking
1155:
Lunch
1215:
Hiking
1550:
Trailhead
1610:
Driving
19:50:
Home

13.5 miles
Time to hike out, already. I wanted to get home in time to see the kids, so I ate breakfast and packed up quickly. I retraced my route around

Big Lake

and up the granite slope to

Pingree Lake

. I went around the north shore of

Pingree Lake

this time, and traversed high across the valley to the meadows above

West Fork Cherry Creek

. I descended into the valley back down along the diagonal creek bed, then followed the dry bed of

Cherry Creek

up to the trail. Instead of heading west on the trail, though, I continued across the trail and followed the creek up past a series of fabulous (dry) cascades, then turned left to

Piute Lake

. Around the north side of the lake I picked up the other major east/west trail in Emigrant, and started down towards the trailhead. From here on I was done with my cross-country fun.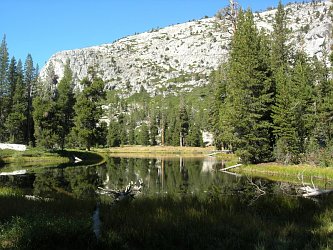 A little ways above

Piute Lake

I found a nice hill overlooking

Cherry Creek

where I sat and had lunch. After eating, I continued down the trail to

Piute Meadow

, then up again on the other side. This was a brutal climb in the heat of the day, and I stopped for a while at the top to rest and pump water from a lily-filled pond. From here the trail descended again to

Lily Creek

, the only flowing creek I found the entire trip. A more manageable climb lead from there up to

Camp Lake

(no camping), and then down again to the junction with the

Pine Valley

trail.



Retracing my steps from the first day, I soon arrived back at the trailhead. A quick rinse of my Pigpen legs in the stream, a final check-in with my SPOT, and I was back in the car, driving home. A mere 3.5 hours later (not including my traditional stop at the

Tracy In-N-Out Burger

) I was home, in plenty of time to help with homework!




---


Last Modified: