Hoover/Yosemite, August 2006
Back to other trips
---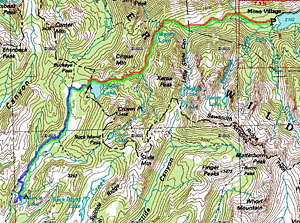 This year everything broke. First a hiking pole (which we managed to fix), then Alex's sunglasses, then (on Day 2) the cap fell off Alex's front tooth. This made things like eating and breathing the cold mountain air difficult, plus we were uncertain if a week without dental care was a good idea, so we made the tough decision to hike out. We tried to make up for it with a day hike in the Marin Headlands.

The original route was to be a seven-day, 50-mile loop of Kerrick and Matterhorn canyons. What we ended up doing was a three-day, out-and-back to Arndt Lake.



---
Day 0: Buckeye Campground
Due to the eastern entrance for this trip, we drove up the day before and car-camped at

Buckeye

, about 20 minutes from the trailhead. On the way up, we had lunch at the

Wolf Creek Inn

in Markleeville -- excellent ribs and brisket! We also spent some time in the

Buckeye Hot Springs

near the campground.


---
Day 1: Mono Village to Peeler Lake
The first day of our route climbed 2500' from

Mono Village

to

Peeler Lake

. That sounded daunting, especially with full packs our fist day at altitude, so we rented a mule to carry our gear up the trail. This let us have a very relaxed and enjoyable first day!

The trail started by winding through the

Mono Village Campground

at the west end of

Twin Lakes

, then climbed very gently along

Robinson Creek

. It alternated between lovely forest and dry, almost desert-like alluvial fans. As the trail began climbing, there were some fantastic views of the surrounding mountains, especially up

Little Slide Canyon

. Eventually, we reached

Barney Lake

, a very pretty little lake with a sandy shore, and had a rest and a snack.


On the way up to Peeler Lake


Hanging out at Peeler Lake
Eric reading, back and front

| | |
| --- | --- |
| | |
Then, after fording the creek a few times, the trail climbed brutally the last few miles to

Peeler Lake

. We were very glad to not have our packs on this stretch. Reaching

Peeler Lake

, we found our packs in a small pile near someone else's campsite. We put them on and walked further around the lake, looking for a more private site. Alex commented that this last quarter-mile with the packs was harder than the first eight without!



Peeler Lake and Crown Point



We eventually found an excellent campsite on the western shore and settled in for lunch and an afternoon of swimming and exploring. The changing light on

Crown Point

(or Crowne Plaza, as we called it) was just amazing, as were the billowing clouds.


| | | |
| --- | --- | --- |
| Alex's Castle | | Changing Light |
---


Day 2: Peeler Lake to Arndt Lake
From

Peeler Lake

, the trail descended through forest into

Kerrick Canyon

. From there, it was like going down giant steps: one huge alpine meadow after another, each separated by short stretch of slightly steeper, rocky forest. The meadows were glorious carpets of green with scattered white granite boulders. There was still a lot of water in the meadows, so the trail detoured around mud pits pretty regularly. There were also lots of bugs.

About four miles from

Peeler Lake

, Alex's tooth fell out. We decided to detour to

Arndt Lake

for lunch and to think things over. The cross-country route to

Arndt Lake

was easy to follow, although the guidebook misplaced the one good campsite here: it's not on the west side of the lake, it's on the north side. We had a frustrating time before lunch looking for it. After lunch, we found it and decided to settle in for the night.

We spent the afternoon exploring the area. We climbed up an unnamed knob to the west of the lake that gave us fantastic views both up and down

Kerrick Canyon

. We could see all the way to the

Grand Canyon of the Tuolumne

, the site of last year's trip!

| | | | |
| --- | --- | --- | --- |
| | | | Hunewill Peak erupts! |

We then explored the beautiful little creek that flowed into Arndt Lake right below our campsite.

---


A snake! A snake!


Little Slide Canyon
Day 3: Arndt Lake to Mono Village
On the morning of the third day we had a pow wow to figure out what to do. The consensus was unanimous and unhappy: hike out. Thus began this year's Death March. Thirteen miles on the last day of a trip isn't beyond the pale, but when you're carrying four days worth of food that you're never going to use, it's near our limit. By the time we got to

Mono Village

we were exhausted.

The hike out was otherwise just as nice as the hike in, though. We stopped at

Peeler Lake

for lunch and a final swim, and again at

Barney Lake

for a snack.

Barney Lake

was packed with mid-afternoon day-hikers.

Finally, we stumbled back to the van and drove to the

Wolf Creek Inn

for dinner.


This year's composites

| | |
| --- | --- |
| | |
---